(Last Updated 12/20/2021)
federal solutions
Federal Date Labeling Solutions
Food date labeling act of 2016
The Food Date Labeling Act aims to standardize food date labeling, and simplify regulatory compliance. It seeks to require all food manufacturers to use just two standardized labels: "best if used by" to indicate quality, and "expires on" for safety. It also calls for consumer education to help Americans better understand date labels; the allowance of the sale or donation of food past its quality date; and cooperation between the U.S. Food and Drug Administration (FDA) and the U.S. Department of Agriculture (USDA) in standardizing the labels.
The Food Recovery Act was introduced to Congress on Dec. 8, 2015, with the intent to significantly reduce the amount of food wasted at all levels of the food value chain. Provisions include regulations and funding that will raise awareness, increase incentives and infrastructure for food donation, encourage composting and food waste to energy programs, and reduce wasted food in schools and the federal government.
USDA AND FDA Guidance on Date Labeling
On December 14, 2016, the U.S. Department of Agriculture's (USDA) Food Safety and Inspection Service (FSIS) updated its guidance on food product labeling, which now encourages food manufacturers and retailers to use a "Best if Used By" date on their products. In May 2019, FDA released a letter similarly encouraging the food industry to use the phrase "Best if Used By" on food products to indicate quality. According to a national survey, "best if used by" is the phrase most easily understood by consumers as an indicator of quality. Since federal regulations do not require date labeling or set standardized language (except in the case of infant formula), it is up to the manufacturer's discretion to determine which phrases to use, such as "sell by" or "use by." Although these dates are an indicator of quality rather than food safety, perfectly healthy, wholesome food often ends up in the garbage due to consumer confusion. By adopting clear, consistent language that makes sense to consumers, there is great potential to reduce consumer confusion regarding date labels.
U.S. Food Waste Policy Tool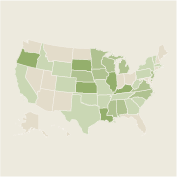 Use this tool to research current food waste policy at the federal and state levels and to discover best practices and recommendations for policy improvements that will support more food waste prevention, recovery, and recycling.
Learn More >
About This Tool
ReFED and the Harvard Law School Food Law and Policy Clinic collaborated to develop the Food Waste Policy Finder, with state date labeling information provided by the Natural Resources Defense Council and animal feed policy information provided by the University of Arkansas School of Law.
About