(Last Updated 12/20/2021)
quiz
Test your date label knowledge
You may have heard that food date labels are a significant contributor to food waste. Take this quiz to test your knowledge and learn how policy can influence good date labeling practices.
For which foods does the federal government regulate date labels? Check all that apply.

Answer: Infant Formula

Infant formula is the only product for which a date label is federally regulated. This is not because of a safety concern, but because the nutrients in the formula decline over time. All other labeling requirements are stipulated by a patchwork of state and local laws, though manufacturers generally choose the dates on packages. Over a third of Americans believe that the federal government regulates date labels.

Which of these labels relate to product safety?
Check all that apply.

Answer: None of the above

Date labels generally are not intended to indicate a food product's safety. These dates are generally set by the manufacturer based on an estimate of when the food will still taste fresh, so that consumers will have the best experience of the product.

Who is responsible for determining what date goes on a particular food?

Answer: The manufacturer.

In most cases the date on a label is a manufacturer's estimate of the point after which a food will no longer be at "peak quality." With only a few exceptions, food will remain wholesome and safe to eat long past its expiration date.

What percentage of Americans report occasionally throwing away foods that have reached or exceeded the date on the label?

Answer: 84%

84% of Americans report occasionally throwing away food that is close to or past the date on the package; 37% do so always or usually.

How many states restrict selling some foods past the date on the label?

Answer: 21

Twenty states, plus the District of Columbia, restrict sales or donations of some foods past the date label, even if the food is still healthy and safe to eat. This makes it more difficult to use food recovery methods to mitigate food waste caused by date labeling practices.
Explore Food Waste Policy by State
U.S. Food Waste Policy Tool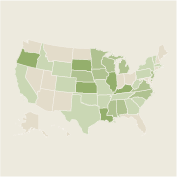 Use this tool to research current food waste policy at the federal and state levels and to discover best practices and recommendations for policy improvements that will support more food waste prevention, recovery, and recycling.
Learn More >
About This Tool
ReFED and the Harvard Law School Food Law and Policy Clinic collaborated to develop the Food Waste Policy Finder, with state date labeling information provided by the Natural Resources Defense Council and animal feed policy information provided by the University of Arkansas School of Law.
About