(Last Updated 10/09/2023)
spotlight on date labeling
Date Labeling Regulations
A patchwork of state regulations around date labeling causes confusion that leads to 20 percent of consumer waste of safe, edible food. Here, you can learn more about these issues, compare state regulations, and find potential solutions to date labeling policy.
Take the Quiz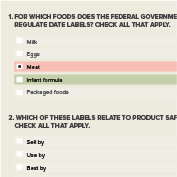 You may have heard that food date labels are a significant contributor to food waste, but do you know why? Take this quiz to test your knowledge and learn how policy can influence good date labeling practices.
Take the Quiz >
Understand Policy Issues
The date labels on food packaging accompanied by phrases such as "use by," "best before," "sell by," "enjoy by" and "expires on" are generally intended to communicate food quality, not food safety. Nevertheless, date labels exert a powerful influence on consumers and food vendors. Under federal law, date labels are almost entirely unregulated. States have filled the void with a wide variety of regulations that often fail to reflect the distinction between food safety and food quality. The extreme variations demonstrate how our current system creates confusion for consumers while not necessarily improving food safety, ultimately resulting in significant waste of wholesome food.

Below is a sampling of state regulations, illustrating the arbitrary variability that currently exists across the United States:
- Connecticut only requires date labels on dairy products, and does not restrict the sale of these products after the labeled date.
- Michigan requires date labels on pre-packaged perishable foods and dairy products, and restricts the sale of both of these items—as well as meat—once the labeled date has passed. Michigan also requires date labels on shellfish but does not restrict their sale after the labeled date. Michigan also requires date labels on shellfish but does not restrict their sale after the labeled date.
- Montana requires that milk be labeled with a "sell by" date of 12 days from the date of pasteurization, and bans the sale or donation of milk after that date.
- New York does not require date labels on any food products, and does not regulate the sale nor donation of past-date foods.

ReFED found that standardizing date labels nationally was the most cost-effective solution to this country's food waste problem. The fairly simple solution has the potential to divert 582,000 tons of food waste per year and provide $2.41 billion in annual economic value.
Open the Map >
Proposed Solutions
FOOD DATE LABELING ACT
No national uniform system for food date labeling exists in the U.S. In the absence of federal law, states enforce a variety of inconsistent date label regulations. The Food Date Labeling Act was proposed to the House and Senate in December 2021 with the intent of establishing a uniform national system for date labeling that clearly distinguishes between foods that bear a label indicating quality from foods that bear a label indicating they may become unsafe to consume past the date. This bill would also ensure that food is allowed to be sold or donated after its quality date and proposes to educate consumers about the meaning of new labels so that they can make better economic and safety decisions.
View Bill Details >
USDA AND FDA GUIDANCE ON DATE LABELING
On December 14, 2016, the U.S. Department of Agriculture's (USDA) Food Safety and Inspection Service (FSIS) updated its guidance on food product labeling, which now encourages food manufacturers and retailers to use a "Best if Used By" date on their products. In May 2019, FDA released a letter similarly encouraging the food industry to use the phrase "Best if Used By" on food products to indicate quality. According to a national survey, "best if used by" is the phrase most easily understood by consumers as an indicator of quality. Despite these steps at providing guidance, neither USDA nor FDA require food companies to use this standard term for quality-based labeling, nor do they require standard language for labels intended to communicate safety. Since federal regulations do not require date labeling or set standardized language (except in the case of infant formula), it is up to the manufacturer's discretion to determine which phrases to use. However, even without federal legislation, these agencies have the authority to adopt requirements that food companies use clear, consistent language that makes sense to consumers and are standardized across products.
Resources
The Dating Game
This report, published by the Harvard Law School Food Law and Policy Clinic and the National Resources Defense Council, gives a comprehensive overview of date labeling rules and practices that currently exist across the United States.
Read the Report >
Date Labels: The Case for Federal Legislation
This report, published by the Harvard Law School Food Law and Policy Clinic, provides an updated analysis of the challenges with voluntary approaches to date labeling standardization and explains why federal legislation is needed to standardize date labels, permit the sale and donation of past date items, and provide meaningful consumer education on date labels that would significantly reduce food waste
Read the Report >
EXPIRED
EXPIRED, created by the Harvard Food Law and Policy Clinic, provides comprehensive information on date labeling and an overview of policy solutions. EXPIRED includes a regularly updated list of pending legislation and alerts for advocacy opportunities. The site also contains a short film, which discusses how state date labeling laws and consumer confusion contribute to the problem of food waste.
Discover More >
Promoting Food Donation: Date Labeling Law and Policy
After reviewing global date labeling and food donation policies, the Harvard Law School Food Law and Policy Clinic published this policy issue brief in November 2021. The issue brief analyzes global policies and best practices, and sets forth recommendations to standardize date labeling, allow the sale and donation of safe past date foods, and provide education to maximize the effectiveness of these standardized labels.
Read the Report >
USDA Foodkeeper App
This application can be accessed online and downloaded onto Android and Apple phones; it helps consumers understand the length of time assorted foods and beverages can be stored. It is organized by category and subcategorized by food product, and includes detailed explanations about how long foods stay fresh.
Download the App >
About This Tool
ReFED and the Harvard Law School Food Law and Policy Clinic collaborated to develop the Food Waste Policy Finder in order to provide an overview of current federal and state policies related to food waste. The tool is intended to depict the existing policy landscape while highlighting best-practice legislation in order to promote the continued development and implementation of sound food waste policy.
About